Social media apps and social media platforms are everywhere. Because they're so useful, they're worth trying. Social media has become the most common form of communication in the entire world.
In this article, we're going to explore how these platforms are useful for digital marketing and why they deserve your attention.
Top Social Media Platforms in 2022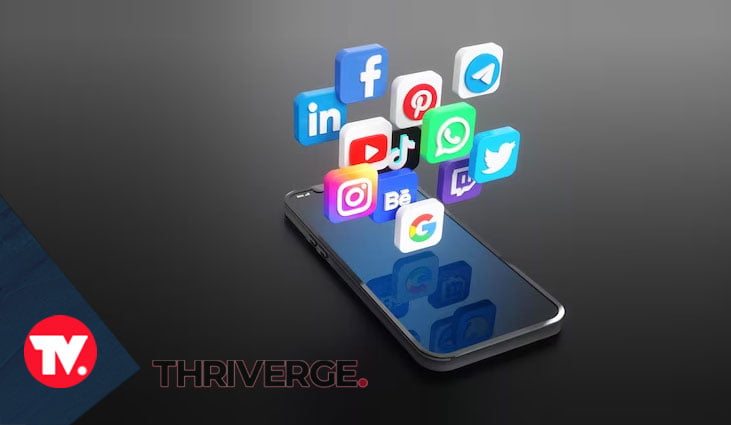 1) Kik
Kik is a messaging app that has been dubbed "the next big thing" in social media, and for good reason. Regarding the Kik user statistics, did you know that there are 15 million active users every month? Kik is different from other apps because it's not linked to a phone number or email but instead allows users to create usernames without providing a telephone number. Usernames are easier for people to remember and provide a sense of security.
For a company, the best way to use Kik is to do a sponsored hashtag campaign. The reason is that it allows companies to reach out to potential customers and possible clients in a more convenient way than other social media platforms. In terms of marketing, this platform has been used by companies such as Adidas and Air Canada.
2) Instagram
Instagram has over 1 billion active monthly users! It's also the service that has the most direct influence in changing a buying decision. Did you know that a customer is 114% more likely to make a purchase from a business they follow on Instagram? The way businesses use it is by having their users post pictures of themselves using or wearing products from their company, which then spreads word-of-mouth advertising and brand awareness.
Another tool that Instagram has is Instagram Stories. This feature allows users to share moments from their lives with friends and family, and it can be used by companies to connect more closely with customers.
Also, if you want to cooperate with influencers, Instagram is the best place to do so.
3) Twitter
Twitter is one of the most overlooked social media channels out there despite its large user base. It is a great social media platform for businesses because it allows companies to engage with their customers. On Twitter, a business can post comments and questions that are relevant to its industry or product that follow a certain hashtag. This engages users who have similar interests and encourages discussion about the company itself.
Twitter can also be used for customer service and announcing promotions and deals. Twitter is a great tool when you want to update customers about any upcoming sales or events you're hosting, with real-time quotes and pictures. This kind of promotion makes consumers feel closer to the brand, which makes them come back for more.
4) Pinterest
Pinterest is a visual app that allows users to engage with content that interests them through the use of visual graphics called "pins". The main reason businesses should use this platform is because it's very easy to understand. A user just has to look at what you're posting and click on it if they're interested. And because most users of Pinterest tend to be women, this also is a great way for businesses that cater specifically to female customers and clients to increase their brand awareness and customer engagement.
5) Reddit
Anyone who has used Reddit before knows that the community there calls itself "the front page of the internet". Popular posts can easily go viral and reach out to a wide audience. What makes Reddit such an appealing platform for businesses is that it allows companies to post their own content and use specific subreddits (pages dedicated to certain topics) in order to raise brand awareness and to add personal touches. Also, it allows brands to connect with customers directly on a personal level, which can lead to strong emotional connections.
6) LinkedIn
LinkedIn is a little different from other social media platforms because it's more professional when it comes to marketing your business online. With the use of LinkedIn, businesses can display their work portfolios and updated resumes, which makes this a very good tool for people who are looking for a job or a company to hire them. This is also a very good platform for businesses to network with other companies, which can lead to better business opportunities down the line. Also, with LinkedIn Influencer, businesses can spread their brand visibility to a wider audience.
7) Facebook
Don't worry, we didn't forget about Facebook! With almost 3 billion (2.89 to be precise) active monthly users, this is the biggest social media platform that businesses can use. Facebook allows users to create profiles for themselves, while companies have pages that are then connected with the profiles of their respective owners. This makes it easier for brands to communicate with customers on a personal level.
Facebook allows companies to post status updates related to their industry or products, which can attract potential customers and new fans to the page. It's also an excellent platform for companies that want to conduct an online survey or contest to get more market research for their business. One of the best things about Facebook is that it allows businesses to show real photos and videos of their products or services, which can generate more excitement from customers.
With all of the features that social media platforms offer, it's no wonder why they're such a popular tool for digital marketing. The most important thing to remember is to know your audience and what resonates with them before you start posting on any of these sites. For example, if you want to reach out to a younger audience, then you should use Instagram instead of LinkedIn.
Besides these two, you can also use Kik, Reddit, Twitter, Facebook, and Pinterest to your advantage. Just make sure that you stay away from spamming and over-promoting since this can easily backfire if not done carefully. Also, it's a good idea to create a content calendar or a plan of action before posting anything on any of these sites – people want to see unique things each time they visit your social media accounts, and it's your job as a marketer to make that happen.
So what are you waiting for? Go ahead and try these platforms out for your business you won't regret it!