The nicest part of a hair accessory is how well it completes your bridal costume, especially if you choose jewelry and shoes that perfectly suit your dress. Your hair accessory is like the icing on the cake. Hair accessories are a component that shouldn't be disregarded, whether you're a boho, modern, or conventional bride—they're like jewelry for your beautifully done hair!
If you're looking for the best hair accessories for your special day, you can discover amazing and affordable ones using the Ounass Discount Code. Here are our top recommendations for 2022 bridal hair accessories to look stunning on your wedding day: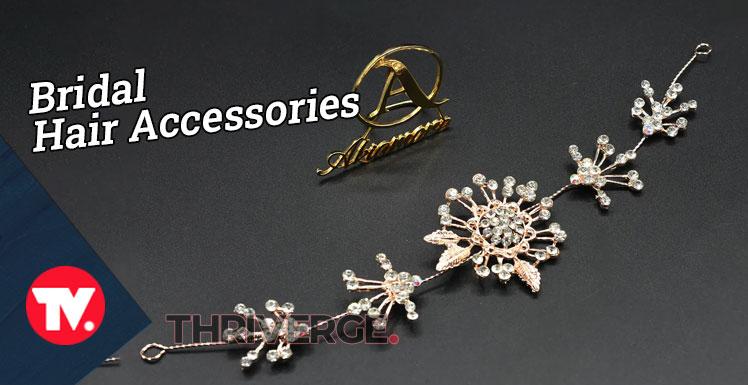 1. Headbands
Headbands are a perfect addition to your bridal hair, whichever way you have styled your hair whether it's up or down. There are classic satin alternatives as well as headbands lined with jewels and precious stones.
2. Hair Combs
Several bridal hairstyles can be worn with combs. They can add charm to a collected bun or carefully keep a selected section of hair in place. Hair combs are a lovely way to give your wedding-day hairstyle a little extra class.
3. Hair Pins
Hair pins are a timeless, easy method to maintain your style while creating a stylish statement. Add some sparkle to your updo or use pins to hold back a portion of hair.
4. Tiaras
Undoubtedly, wearing a crown or tiara on your big day will make you the center of attention. After all, this is your moment to experience a regal feeling.
5. Hair Clips and Barrettes
When it comes to bridal aesthetic appearances, eye-catching barrettes and clips provide a touch of sparkle—whether they are your family heritage passed down from one generation to another or an item you just can't help thinking about.
6. Veils
A veil is a timeless addition that shouldn't be ignored. Consider it a nice addition to your bridal appearance because frequently it is this item that makes you feel like the stunning bride that you are.
7. Ribbons
Any wedding dress will benefit from a little ribbon. As you prepare to walk down the aisle, grab a headband or bow with ribbons.
8. Scatter Some Flowers
If your wedding is during the spring, consider decorating your lovely hair with petals! For a romantic effect, add floral pins or even real flowers to your tight, high bun.
9. Choose Lovely Crystals
As an addition to your lush curls, a small crystal hair clip will create a unique effect. You'll look stunning in all the pictures of you getting dressed and walking down the aisle.
Slay The Perfect Look On Your Special Day With Your Hair Accessories
Bridal hair accessories are an important part of the perfect wedding hairdo, the finishing touch to your wedding dress and they will also draw attention to your radiant face.
Ready to find the perfect hair accessories to fit your bridal aesthetic? Check out some of our lovely hair accessories suitable for any bride's hairstyle using the Ounass Coupon Code.
About The Author
Tricia Ken is a vivacious lifestyle and fashion content writer. She enjoys expressing her views on the newest developments in the fashion industry. She works hard to produce engaging material that everyday fashion fans can relate to and appreciate.